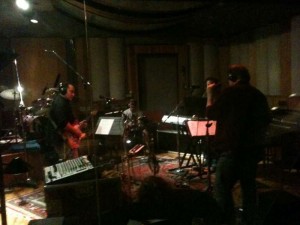 So yesterday marked the semi-debut of Wonderlick as a live five-piece. I say semi, because we recorded a radio session yesterday, but it won't be broadcast for a couple weeks. Once it is, we should be able to get all the tracks live on this site in a sharable player.
Many thanks to Dennis "The Menace" Scheyer for hooking the session up in the first place, and for doing a flattering amount of research about the band before sitting down to interview us — it's always a pleasure to talk to people who get you.
Thanks as well to the band — Ken Flagg tinkled the ivories, Daniel Fabricant played a five string bass, and Chris Brague drummed. I'll try to get some more photos of the day up later on. In the meantime, you should check out Ken's MySpace page, as he's a pretty amazing solo artist, too — I particularly recommend "Mountain Girl."
We did 5 songs total: 3 from Topless ("Commercial," "You First," and "Fear of Chicago"), a cover of GBV's "I Am a Scientist," and a brand new one we literally wrote in the lounge while the engineers were getting drum sounds. That one's called "One of the Good Guys," and is the first of what may turn into an entire album about superheroes. Not the pretend kind in comic books, the real life ones who actually make themselves costumes and give themselves names and fight crime here in the U.S.A.