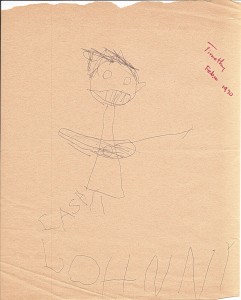 Today's the street date for Topless at the Arco Arena. If you pre-ordered it through us, your package should have arrived by now (shoot admin@wonderlick.com a note if you haven't received it).
The band will be doing another Wine Time with Wonderlick webcast this Saturday night, 7/11,  at 6pm PST. Tune in, and bring your own bottle of wine — if you have a webcam, you can broadcast yourself as you watch (it's actually kind of fun when everyone toasts one another). We're contemplating starting an advice segment, so if you have any relationship or mother-in-law problems, send them in before Saturday, and Wonderlick will distribute sage advice to you during the chat.
We'll also be performing a few songs and getting interviewed on KUSF on Sunday afternoon, sometime between 4 and 6pm PST. You can listen live here.
Here's a nice little blurb about the album from philly.com.
Oh, that picture is a drawing of Johnny Cash I apparently made in 1970, when I was 5 years old. It fell out of an old scrapbook last night, and seemed worth sharing, since "The Possibilities" is based on a clip of Mr. Cash appearing on The Tonight Show in 1964.