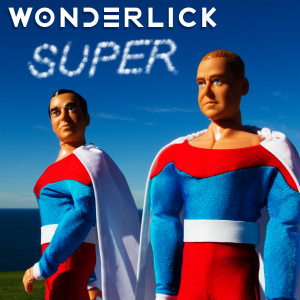 There are a couple of notable things about Wonderlick's upcoming third LP, Super.
Notable thing #1: the band have turned themselves into action figures.
Notable thing #2: the band will be giving the album away for free, via the Super app. Because a concept album about superheroes deserves more than just some mp3s and a tiny jpeg.
The app is pretty cool, if we do say so ourselves: it comes with lyrics and liner notes and lots more photos of the action figures being heroic and will eventually include videos and other nifty things. We're starting out with a teaser EP featuring five songs from the full album. Folks who install the app will have first access to the rest of the album when it comes out.
You can get the app free today from iTunes or Google Play, and it'll let you hear the songs once per day. If you want to unlock unlimited streaming (and get mp3s of all the songs, to boot), you will have multiple options, many of which are also free, such as signing up for a free trial of Rhapsody.
Whatever option you choose, the band gets paid, even when you pay nothing.
Which is kind of super.