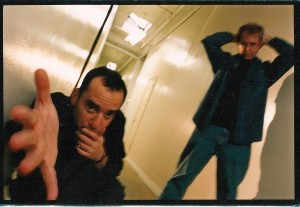 Welcome to the new Wonderlick website. We've pre-populated it with some of the recent news from the old site,  various posts from Lick's Facebook page, and several years' worth of interviews and reviews. But the real action is in the future — we'll be turning various widgets on and off and maybe moving things around as we figure out how best to use this thing.
The plan, such as it is, revolves around creating something lively — a place where we can have something close to a real-time conversation with friends, fans and random passers-by. So, please, comment early and often — tell us what you'd like to see more of, what you can do without, weird dreams you've had about Jay, and things of that nature.
The Music and Merch sections will be getting tricked out shortly — we just signed a license agreement with Topspin, an amazingly cool and visionary company that provides all kinds of futuristic ways for musicians to share their creations with the public. Basically, all the stuff we've been idly experimenting with since 2001 they have turned into a fine science. So, check back often, or hit the RSS feed button up at the top there to stay informed whenever we roll out something new.
In the meantime, if you're new to the world of Wonderlick, here are some helpful facts:
Wonderlick is a band, not a personality test. If you're looking for Wonderlic without the k, perhaps to find out how the pro football players on your team think, you probably want to go here.
The members of the band are, in alphabetical order, Jay Blumenfield and Tim Quirk.
Jay and Tim are ably assisted by a producer/engineer/German named Johannes Luley. He has his own website called mysonictemple.
Wonderlick's self-titled debut album originally came out on Future Farmer in 2002. You can listen to it on this website's Music page and, if you are so inclined, obtain it on this website's Buy Things page.
Wonderlick's sophomore album comes out on 7/7/09. It is called Topless at the Arco Arena, and can be heard/purchased in the same manner as their debut. You can also read interviews with the band about the making of said album, or reviews of same, on the Press page of this website.
There are many explanations for the seven year gap between items 5 and 6 above. These include, but are not limited to, the fact that Jay and Tim are active in other fields. For instance, Jay produces all kinds of TV shows, while Tim is a bona fide executive for an online music company called Rhapsody.